Living with Covid – Personal Story
We spoke to Caroline*, 64, about her experience as a 'shielder' during the pandemic. Read her story.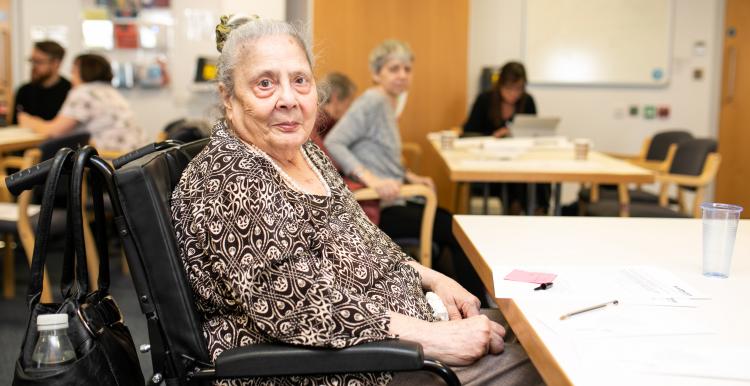 We spoke to Caroline* earlier this year to find out how she has been coping during the period of lockdown and beyond. Caroline is a disabled lady who lives with long term conditions. She lives alone quite independently, and she wanted to tell us what her life has been like over the last few months.
Her story highlights the issues and problems that the lockdown caused her and many other people. She hopes that lessons can be learned from this moving forward, so these things don't happen again. She worries about those who do not have a voice, who cannot speak up and fight for what they need.
Read all about her story.
* Caroline is not her real name
New regulations
"I'm confused at all the new regulations – those on shielding – the media is confusing. It's hard to get info – I heard that people who were shielding can now go out if necessary and then I heard shielding is continuing as normal. It's a maze trying to work your way through it.
"I had major problems – I wasn't initially deemed as someone high risk. The GP surgery I was at closed down and everyone was moved to another surgery and I think the reason was the surgery was very small and they couldn't practice the distancing and the rooms were very small and I've heard it is going to be shut down completely. So when everyone was shifted over – they were all new doctors, they didn't know me – had never met me and I had to explain to him that I've got asthma, I can't have the flu jab because I'm allergic to egg so that leaves me wide open – I'm not protected. I've been given the pneumonia jab that lasts 10 years. I have been trying to fight my corner on my own and eventually I managed to get to speak to him (GP) and he said you are definitely high risk. But this is from March and this didn't happen until May. So in that time I couldn't get priority shopping, I was getting nothing. I felt trapped, ignored, frustrated – not knowing who to turn to because yes this is unprecedented time and no one knows the long term – we are still learning, but what I was angry about was that no one would believe me. Why would I put myself in this position by saying these things? I don't want 'special treatment', as soon as I was put on the priority list I was so grateful for that slot, and I could get priority food slot but prior to that I couldn't get any food. I do have a PA who comes to my house – I asked the company that she works for which is a private company if they would be willing to do the shopping and I would put it through the bill on my transactions. But they said they couldn't do that as a lot of their clients have dementia – it wasn't their policy as it causes problems. They did it the once but that was it. I was so grateful when Healthwatch compiled that list of organisations who could deliver food – that was a god-send for me – it was somewhere I could reach out to as I didn't know where to start.
On the shielding list
"After being put on the shielding list I started to get food parcels- I only got one – I ended up stopping it because I have a lot of food allergies, so a lot of stuff in the parcel I couldn't have. So it was a lovely thought but I couldn't use half of it. If I hadn't been put on that list it was a nightmare trying to get a slot at a supermarket. And I turned to a foodbank but they wouldn't come up and deliver it saying from Farnworth to Blackrod is too far. I gave my disabled neighbour what I couldn't eat and she was really grateful for it.
"It seems like a blanket – where are we in all this? You can make your bubbles – I haven't got a bubble - I don't have anyone- people live on their own – they need help. I only just moved here so I don't know my neighbours that well. It's strange, awkward and magnifies situations for me. I can't wear facemasks due to asthma but I'm trying to make sure I am protected. I've got myself a face shield when I do go out but they're not as effective so I thought maybe I need a breathable one – with a filter – so I got one but they didn't show me how to put the filter in the right way around so they're dangerous. There is no legislation – when something like this happens they all jump on the bandwagon and it's all money making. And no one is adhering to the safety aspect. It's my life – I have to put it in their hands when I go out – I don't plan to go out – I don't want to, I'd rather do this than get accused of not wearing a mask. I've got one of those exemption cards on my mobile but I'm concerned about my safety not wearing one. If I could buy a breathable one with a filter – I've no idea if that would work but I am trying – better to try than just say no.
"You have to make sure you are as safe as you can be when outside. I don't carry much money on me – how do I get money out of the bank? – I don't know what is going on out there. My PA is telling me but you don't know what it's like because you are not in it. My car hasn't been used since March – I'm really frightened to go out – I'm really scared. I've had the car looked at – the mobile mechanic can come out but I can't go anywhere until the car is fixed. Docs are seeing certain people at the surgery but I can't get there. But now they are seeing certain people if it's a medical condition – come into your home. It's worrying – it just a chiropody – it's worrying as you haven't been out for months you worry.
Coping in unprecented times
"I'm being busy – I try not to let myself think too much. I have been down – I've had depression before and I don't want to go down that road again where my life was. It has been hard – I've been on groups (video) but it's that seeing somebody personally – physically being in the same room. When my PA comes she's in all the PPE, but it's not the same. I also worried about my hearing impediment – I'm worried I can't hear what people are saying. I do lip read but I can't because of the masks. I'm still waiting for my helping dog – hearing dogs for the deaf. They've suggested to people they wear the Perspex masks. They did say stand back and talk but I can't – it's just all these things and I know there are people worse off than me. I know people who all got the virus - one was nurse who brought it home to her family – she must have felt awful. I'm glad my mum who has dementia doesn't know what's going on. I'm glad I'm so independent so my family don't have that worry – they do worry about me but they don't have to worry as much.
"I'm usually out all the time with various groups and volunteering. But it's all gone and we don't know if we will ever be able to do what we used to do – ever. In April I did my coaching course (Boccia), I shut the club down but I'm qualified to do the coaching. I did play at Blackpool, they wanted me to do another course in April but all cancelled and we don't know how it can go back – contact sports. I did find a way to pick up my ball – I've got a grabber – I'm thinking of ways – I overthink sometimes too and that's not good. But it has been hard, very hard. I keep busy because if I stop I've lost it.
"I get my shopping – but the government says it is stopping it from 1st Aug so I stocked up. I heard through CVS – Senior Solutions – they ring me every week for a chat which has been nice. My sister told me about the government website to get priority slots. I didn't get the letter until June and it started in March, it's ridiculous. I don't think it's been thought out very well for people like me. If we had been the first country I could maybe understand it. You see countries legalising face masks, you need ID etc, people won't comply – no social distancing etc so you have to legalise it. You wear a seat belt to save lives so you should wear a mask to save lives – need to legalise it – done it in shops but should be everywhere but they cut back on the police.
Where does the advice come from?
"I wonder if they listen to the scientists? It's political – they need to be more understanding – it's just a blanket. Where are we disabled people in this? High risk people but where do we fit? I'd be so angry that if I haven't been out for months then I go out there and someone isn't wearing a mask and I get infected – for what? They are asking people who've been shielding to go out – what are they going out to – they don't know. I don't understand it. When you hear stories that we could have to live with this for the next 6 years – but if we need some legislation about wearing masks to get the numbers down and this eradicated. When my sister flew over – there wasn't one check done at the airport – they walked straight in – no checks. People are being paid a lot of money (scientists etc), it does get political – it's the driving force. They're trying to find a vaccine – has to be effective – I do get that and hopefully when they do find it – it's frightening times."
Here I am in 2020 not knowing where to turn.
How long will this go on for?
"I can't stay like this forever, I don't like my own company – I like meeting people, helping people – how can I help? I can't even hear on the phone – I do miss going out. Is it an age thing? – older people? we don't have to worry about them – it's the younger ones - but I have a right to life – I'm a living person. I'm liaising with the CCG trying to find a clinician to assess me for a new wheelchair and new prescription. My wheelchair isn't fit for purpose at the moment. Bolton won't entertain wheelchair users with certain needs. They are missing a cohort of people – I can't be the only one with special needs - these people don't meet Bolton wheelchair criteria – so where do they go? I'm so grateful to have that voice in myself – to do the research etc but I'm still having problems. My chair has special features like elevations etc.,to reach cupboards to enable you to be as independent as possible. I've had NHS staff amazed at my wheelchair – I've elevated onto an examination couch – slid myself across – they haven't had to lift or use a hoist. They are amazed – it helps them too not just me. My condition isn't going to get any better but, I just want to make sure that I am as independent as I can be for as long as I can be. It's not being selfish – I'm saving them money but they don't see it like that. These wheelchairs are expensive but I can't drive if I don't have my wheelchair.
"I don't think people realise what you go through when you have a disability. And I try and play it down. I'm no different from anyone else other than I don't walk now. Hopefully I still have other faculties. You know I was having some medical treatment once and I got sight of my medical records and on the entry from when I was born it said I was mentally retarded and I knew about this and I remember ESN on my record and I knew what this meant and I said before we address what I have come for, can I ask you put an addendum on my notes where it says ESN? It may have been the case then but it is not the case now. And she looked at me and because I used the word 'addendum' she was taken aback. But she said they couldn't change it and it is still on my notes. If they can't change it who can? – it is still sitting on my records and it is wrong. It sticks and affects your life. But I know someone who had a child with Downs Syndrome and they wanted this taking off the records. Any they did it because she had money and paid for it where as I didn't. If I had money to fight it I could have had it taken off. If I had gone further with my education and they had seen that on my records it could have affected my life but people can tell I'm not mentally retarded. I had to fight and fight to get on the high risk list and if I didn't have the ability or the mind set to do that - able to voice and express myself where are we going to be? My mum always taught me you don't get things handed to you on a plate, she made me not feel guilty about having to fight. I can't believe I'm sitting her at 64 still fighting for a wheelchair. We live in a money orientated society, yes you need money to keep things going but do you risk people dying? if they're not careful there won't be any people to run the economy.
My reality
"You have to carry on, I have no choice. I'm concerned about the wheelchair – it is my life. If I don't have a wheelchair I don't have a life – I don't have my independence– I wouldn't be able to get out of the bed, go to the toilet – that's how bad it is the wheelchair situation is. It is broken – one of the footrests is broken. Took me two years to get my current wheelchair – they refused me. I've started to twist in the chair. I showed Bolton wheelchair my chair and their solution to me twisting was to hook me into the wheelchair and I said how is that not a safety issue? I had an accident a while ago where I fell out of the wheelchair – I fell out and the chair stayed still but I've known people trapped in their wheelchair. It's very dangerous – I said how is clicking me in safe? I am living with this and they need to listen to people. She saw my footrest and couldn't understand how it was affecting my foot (head of wheelchair dept) – she was blown away – said that's specialist and we can't help you – they wouldn't entertain it.
"Maybe Healthwatch can look at that group of people with special needs and wheelchairs – it's complicated and not just a mode of transport. Needs a facility able to take them on board that they can go to. Here I am not knowing where to go in 2020. My wheelchair is from Manchester but as I don't live there I can't go back to their wheelchair services. CCG in Bolton is helping me – there may be other ways to fund it. I'm on it at the moment but HW might be able to assist the two groups – Bolton only providing one cohort and it's not the one with special needs. I'm worried I don't want to be stuck without a chair. Things are expensive. Everything is a hassle – I just want things to be straightforward. The company the CCG gave a contract to went bust and caused so many problems. Needs joining up – I can't believe I'm the only one in Bolton. It's the independence that is important – everyone has the right to that. I've fought for what I've got and there may be people out there who have no one to support them to be vocal. I'm grateful I am the way I am, my mum said nothing is handed to you on a plate – good advice. My mum is 92 with dementia – in care and is in the right place.
"It was so wishy washy – what hurt me most was trying to tell the authorities that I am disabled that I have this problem. It's like I didn't know what I was talking about – that's what upset me – not the doctors but those on the front line – manning the phones – who do they think they are? Some people think they are so powerful."